Whether you're in Phoenix, Tuscon, Sedona or Flagstaff, there is no shortage of breathtaking hiking trails in Arizona to connect you with nature. The hard part is choosing which trail to hike first! Luckily we've got the perfect list to help you out with that decision. This list of the best hikes in Arizona features trails accessible only by permit as well as easy-to-find trails near urban areas. Most of these hikes provide a physical challenge and are best-suited for moderately experienced hikers, and all of them provide a rewarding view. Read on for our favorite hiking trails in Arizona.
Camelback Mountain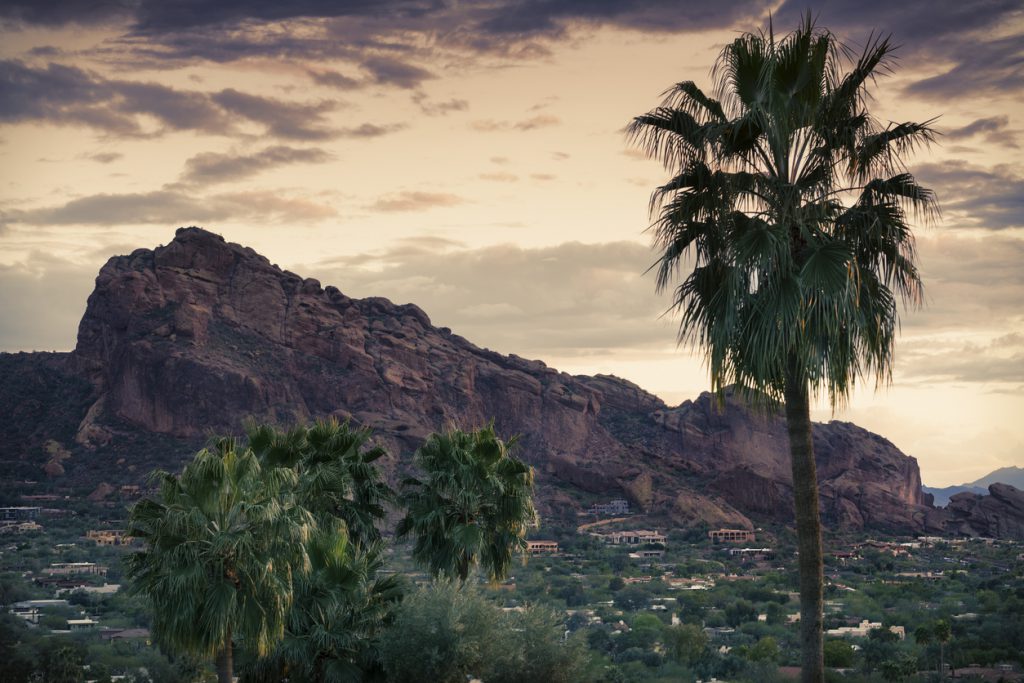 Hiking Camelback Mountain is pretty much a rite of passage if you're going to be visiting Phoenix. It's the most popular hike in the Phoenix metro area, and for good reason. It's equal parts challenging and rewarding, with rock scrambles along the way where you'll have to use your hands. There are two ways to hike it: from the less steep but longer Cholla trailhead, or the more popular and steeper Echo Canyon trailhead.
The Cholla trailhead is typically less crowded and features a 1.5-mile trip one way to the summit. You can't park at the trailhead here, as it's in the back of a private neighborhood. You'll have to park at the foot of the mountain in neighborhood street parking and walk up the hill to the trailhead, where the route follows the spine of the smaller hump of the mountain. Echo Canyon is 1.3 miles through steep rock scrambles to the summit, and the trailhead has a parking lot, bathrooms and water fountains. You can't go wrong either way!
Piestewa Peak Summit Trail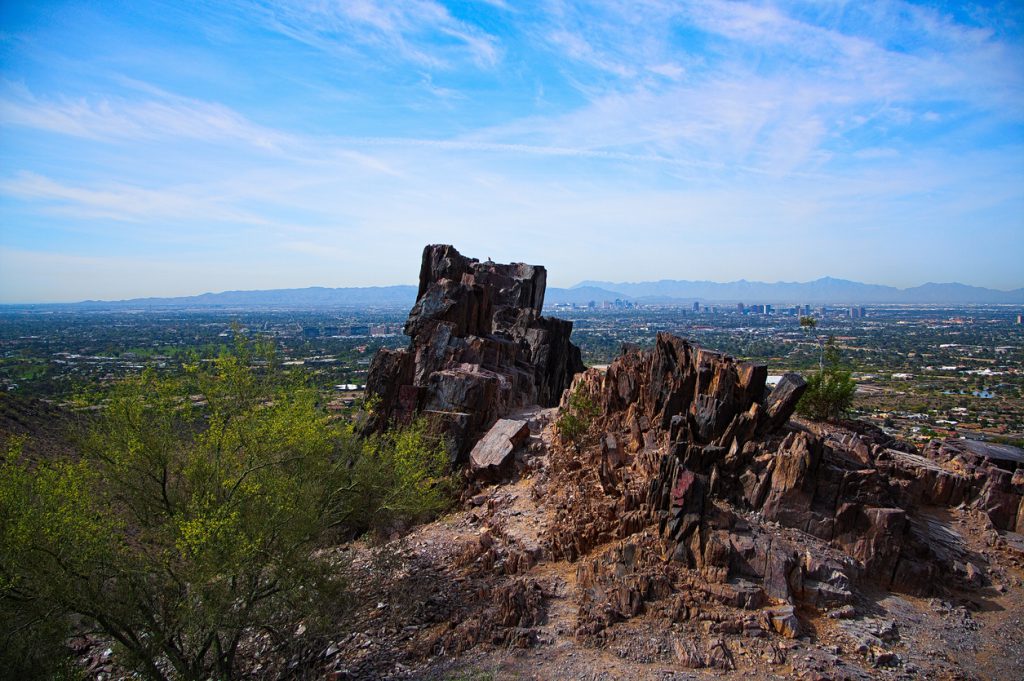 Piestewa Peak, formerly known as Squaw Peak, is the pointed mountain decorating the Phoenix skyline. It was renamed in 2003 after the first Native American woman to die in combat in the U.S. military, Lori Ann Piestewa. The 2.2 miles out and back hike in the Phoenix Mountain Preserve has fewer rock scrambles than Camelback. It is steep and jagged though… With switchbacks and steps carved out of rocks. At the summit, you'll find gorgeous 360-degree views of the Phoenix area.
Bright Angel Trail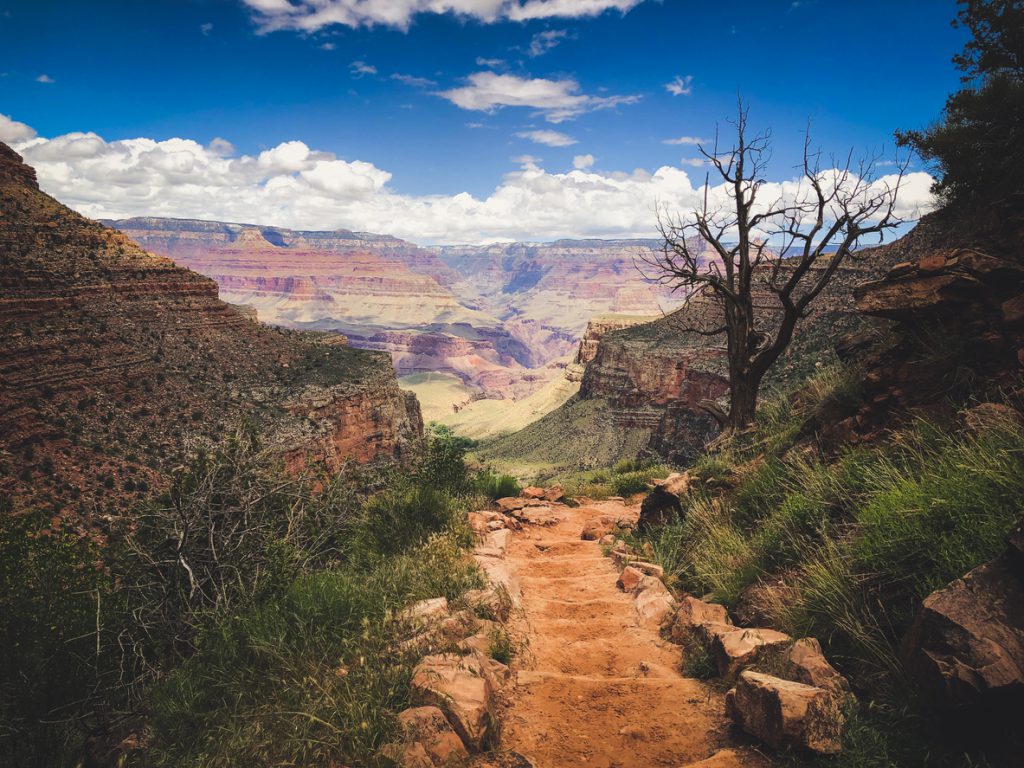 If you're looking for the best trail in the Grand Canyon, this is it. The Bright Angel Trail takes you from the South Rim of the canyon down to the Colorado River below. It's 9.5 miles to the Bright Angel Campground below, so if you're going to do the entire hike down and back, you should plan for multiple days of hiking. However, there are several stops along the way if the full hike isn't for you.
You can find bathrooms, drinking water and covered spots to rest at the Mile-and-a-half Resthouse, Three-Mile Resthouse, or Indian Garden as you descend into the canyon. This is definitely not a hike you want to do in the heat of summer at all – the portion of the trail below Indian Garden known as "Devil's Corkscrew" follows a creek and is known for getting brutally hot. Plan to drink lots of water and hike in the early morning or late evening. When done correctly, this trail is the best place to experience the Grand Canyon up close and personal.
Devil's Bridge Trail
This highly photographed rock formation near Sedona is well worth the hike. It's a 4.2 mile out and back trail that leads to a natural sandstone arch in the Coconino National Forest. You'll start at the parking lot for the Mescal Trailhead on Long Canyon Road and take Mescal Trail to Chuckwagon Trail until you cross Vultee Arch Road, where you pick up the Devil's Bridge Trail. If you are driving a 4×4 and don't want to hike as far, you can also opt to drive down Vultee Arch Road and park directly at the Devil's Bridge Trailhead, which makes it just a 2-mile hike roundtrip. The hike is filled with gorgeous Red Rock scenery and diverse plant life. You'll definitely want a camera on this route.
Antelope Canyon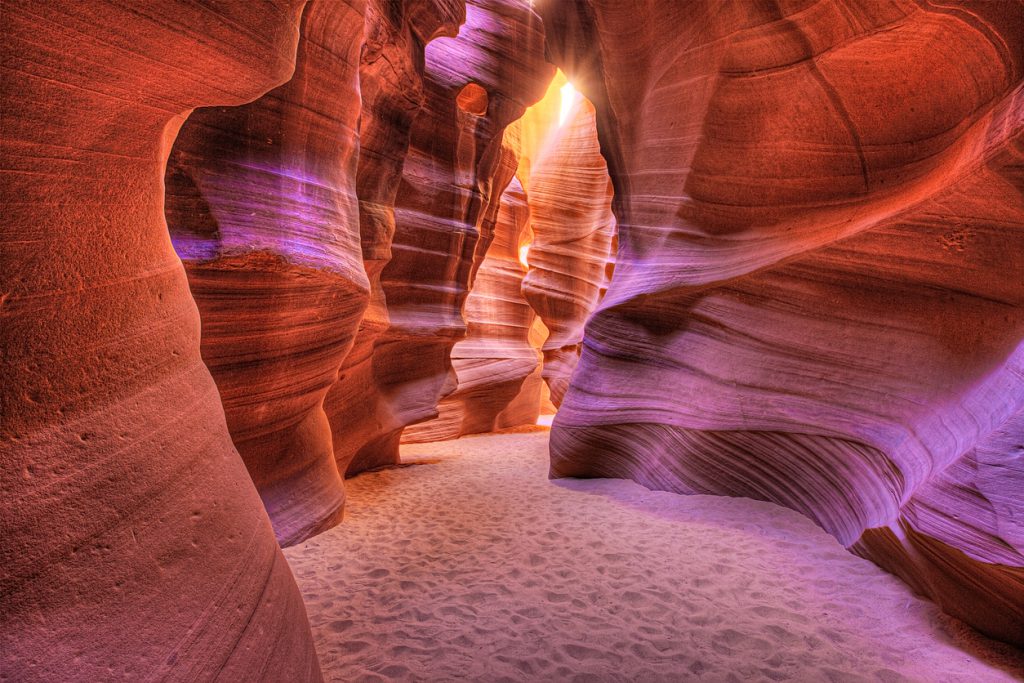 Now, on to the more regulated hikes on our list. Antelope Canyon isn't a long or difficult hike. You will have to hire a guide to get to this breathtaking slot canyon though. It's on a Navajo Park. So you're required to have a native guide accompany you. There are two options: the upper and lower canyons. The upper canyon is the one you've likely seen the famous light beam photos of, and it's extremely accessible since above ground and you don't have to descend into the canyon. However, it is more expensive and more crowded. The lower canyon is for the more adventurous traveler. It's more narrow and requires climbing ladders into and out of the canyon – but you're much more likely to get a photo here without people around.
The Wave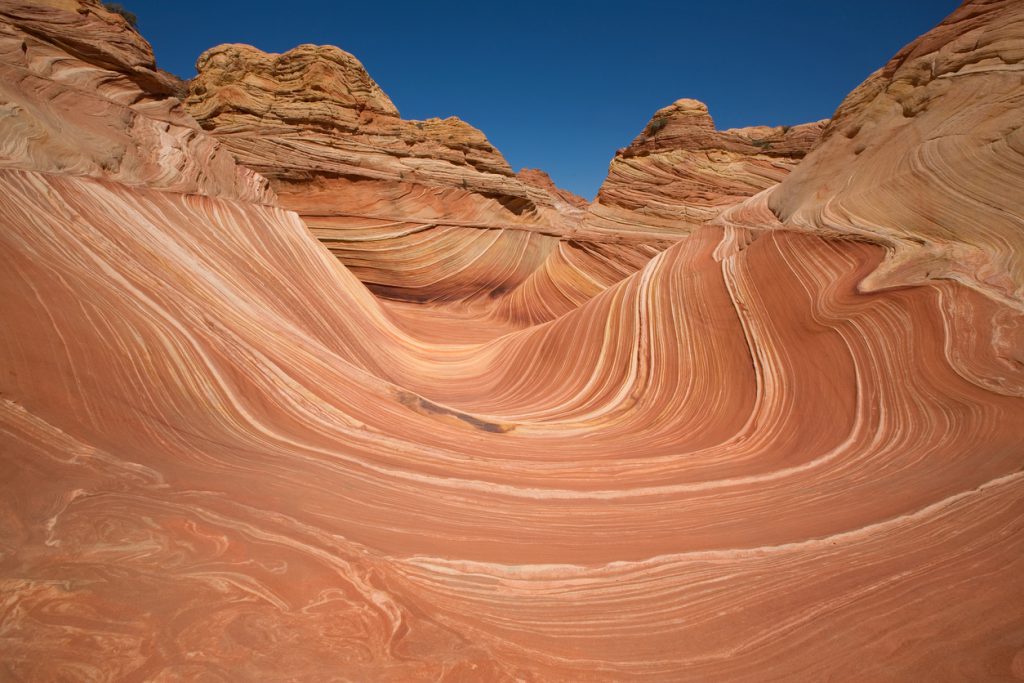 The Wave is another photogenic Arizona location that you've likely seen on a screensaver before. You'll need a Coyote Buttes North permit for this 5.2-mile hike on the Utah/Arizona border in the Vermilion Cliffs National Monument. The catch: only 20 permits are given out per day. There's an advanced lottery online that gives out half the day's permits. The other 10 are given out in person at the Visitors Center in Kanab, Utah. If you're lucky enough to get selected… You'll want a map to navigate yourself to The Wave as it isn't marked like your typical trail. The otherworldly views of this red sandstone formation will be well worth the effort it takes to get there.
Havasupai Falls
Speaking of hard tickets to come by, we cap off our list with Havasupai Falls. These turquoise blue falls on a backdrop of red desert rocks are absolutely breathtaking. You'll have to win the lottery and take a multi-day backpacking hike to get there. You can enter the lottery online on February 1st to try to claim a coveted spot. You can also book a tour company. You'll start at the top of Hualapai Hill and hike 8 miles down to the small town of Supai. Fun fact: It is the only place in the U.S. that still gets all their mail via Pony Express!
To get to the famous Havasu Falls, you'll have to hike 2 more miles past the town to the campground and ranger station. You can hire a pack mule to carry your gear on the hike, but we recommend carrying your own pack. Havasu gets all the attention, but be sure to check out Beaver Falls and Mooney Falls on your visit as well. This hike is truly a bucket list experience for anyone who loves the outdoors.
Best Hiking Trails in Arizona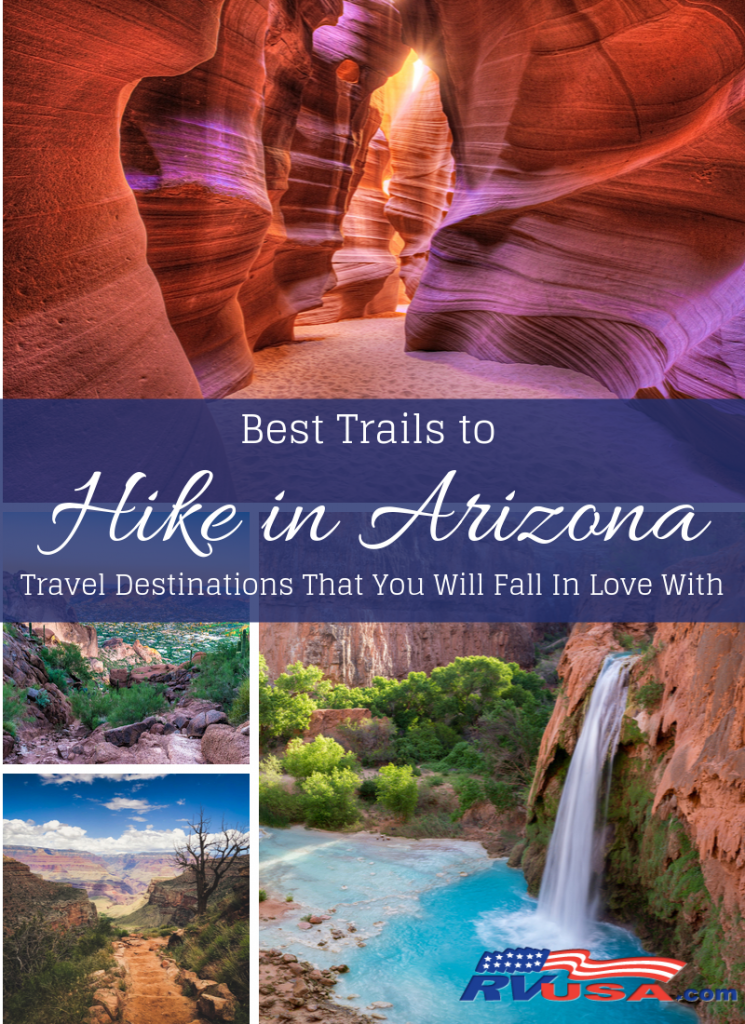 This list barely scratches the surface of incredible hiking trails in Arizona. These are the ones the avid hiker won't want to miss. You're guaranteed to stumble across more along the way that you'll want to add to your own personal "best hikes" list. All you have to do is get outdoors in the Grand Canyon State. Your new favorite hike is just around the corner.