Are you taking a trip and looking for the best places to visit in Arkansas?
Arkansas is truly an underrated travel destination. It doesn't soar high on the mainstream list for American travelers, but there are plenty of hidden gems here waiting to be discovered. From hot springs and rivers to mountains and forests, it's the perfect place for those who like to get outdoors and enjoy nature. It is known as The Natural State after all! In case you need a little help uncovering all there is to see in this central state, here's our list of the best places to visit in Arkansas.
Hot Springs National Park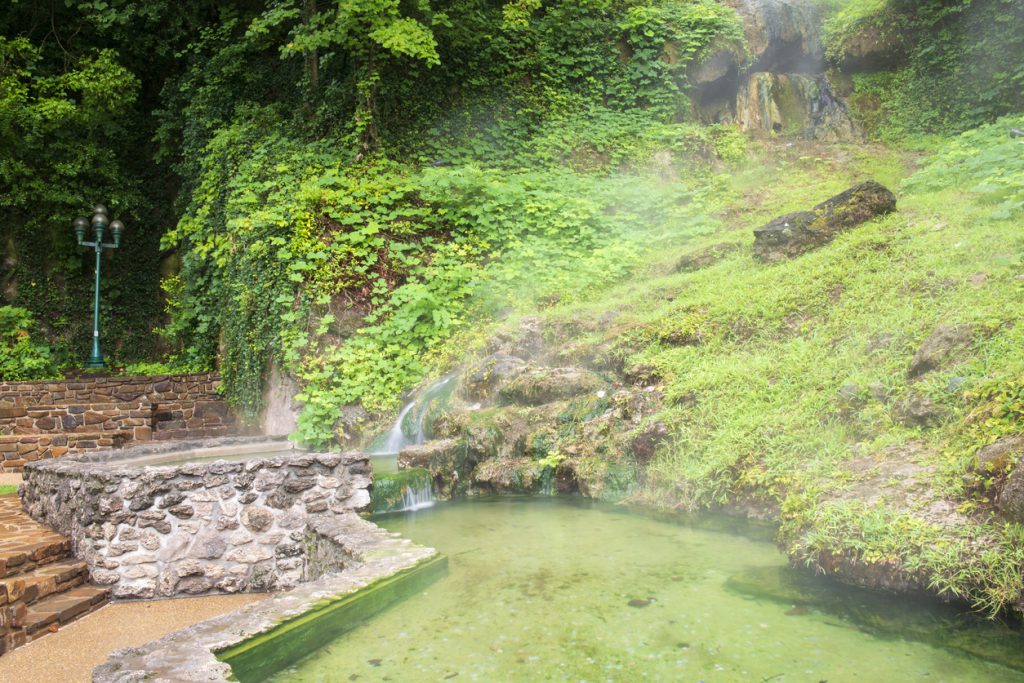 Tucked away in central Arkansas is Hot Springs National Park, where the attraction is, of course, its hot springs. It's a bit different than the national parks you may be used to though, as the park encompasses part of downtown Hot Springs. That's because this area of the state has historically been a hot spot (pun intended) for getaways at spas built over the natural springs. Dating back to the 1830s, the city of Hot Springs has drawn visitors looking for luxury, leisure and even healing in these spas and bathhouses. Today, parts of the natural springs are still preserved, like at the popular Display Springs and Hot Water Cascade.
While you can hike, bike and enjoy the outdoors on the park's 26 miles of trails, you will also want to visit Bathhouse Row to learn about the history of spas and their influence on culture and enjoy the elegant design that characterizes these once-popular getaways. The Fordyce Bathouse is known for its impressive architecture and now serves as the park visitor center, and you can still take part in the baths at Quapaw and Buckstaff. The spa experiences in Hot Springs have been modernized since its early boom as a relaxation destination, but you can try their famous mineral baths for a unique vacation experience.
Buffalo National River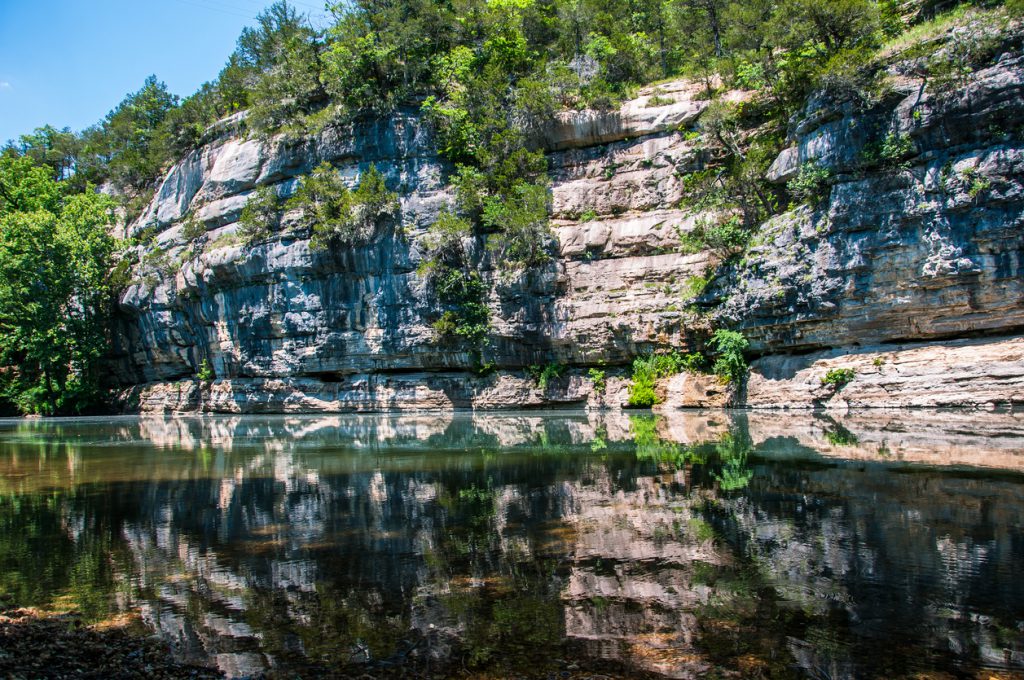 This 135-mile river was the first national river in the United States. Winding through the Ozark Mountains, the Buffalo National River's most notable features are the steep bluffs that line its banks. In the spring and summer, there are many ways to enjoy the river's scenic views, including kayaking, rafting, and more leisurely inner tube floating. You can also explore the unique limestone formations on the shore or hike the park's trails. Hemmed-In Hollow Falls are particularly stunning and can be reached by a challenging hike or an easier float. Be sure to check the river levels before you plan to float the river so you can plan accordingly.
Ozark National Forest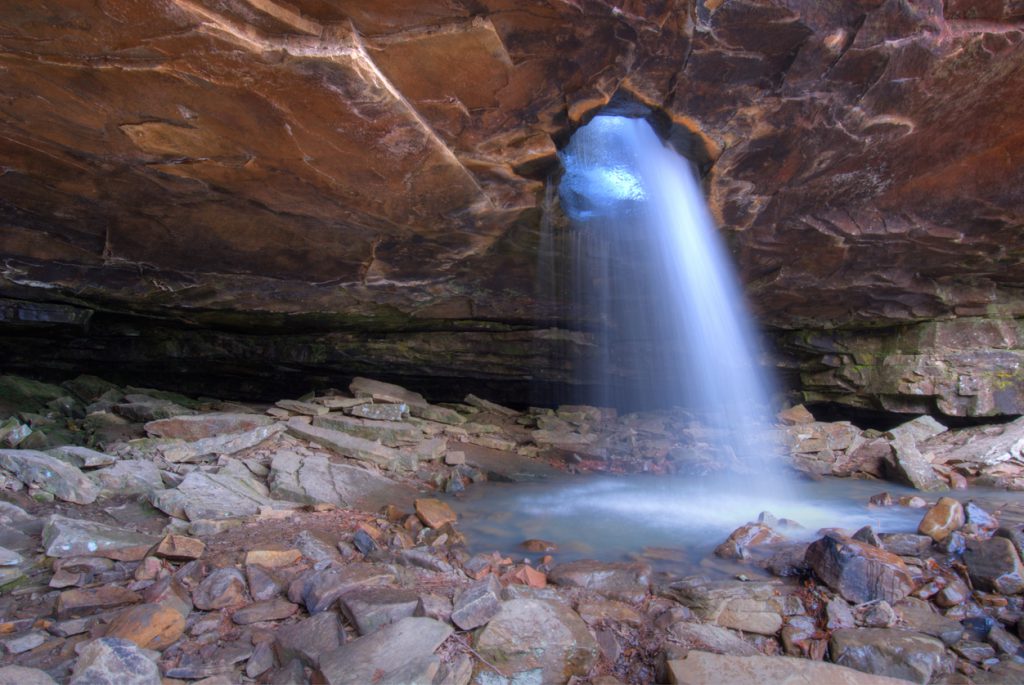 The Ozarks are arguably Arkansas' most stunning natural feature, and the Ozark National Forest provides plenty of reasons why. Its 1.2 million acres in northern Arkansas have everything from towering mountains to underground caves. The state's tallest mountain, Mount Magazine, lives here, and Blanchard Springs Cave is a must-visit. The area is especially beautiful in the fall when the leaves blaze with orange and red hues. There are plenty of trails to hike, rock formations to see and waterfalls to visit, but Glory Hole Falls stands out. It's only a 1-mile hike, but it's no average waterfall! Dismal Creek runs along the bluff above, and a hole in the rock formation creates this phenomenon. The water flows especially strong after a good rain and freezes in the wintertime for an entirely different viewing experience.
Hawksbill Crag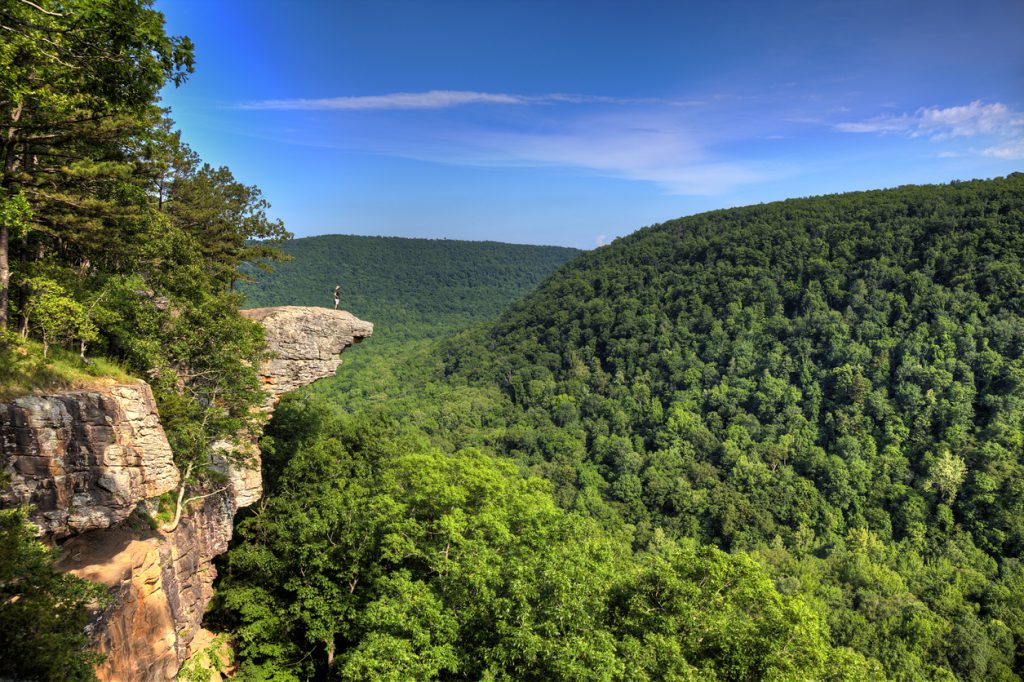 This magical spot is in the area where the Ozark National Forest meets the Buffalo River, but it deserves its very own mention. The iconic rock formation is one of the most romantic (and most photographed) spots in Arkansas, and for good reason. Also known as Whitaker Point, the crag juts out over the treetops and the valley below to create a picturesque scene out of a storybook. It's a 3-mile roundtrip hike from the Whitaker Point Trailhead that will take you across a creek, through wildflowers, and past a waterfall. Plan to take some time once you get to the lookout to soak in its beauty, and of course, snap plenty of photos. However, please use extreme caution when hiking on the crag, as there have been fatalities in this area due to the sheer drop-offs on the cliff.
Petit Jean State Park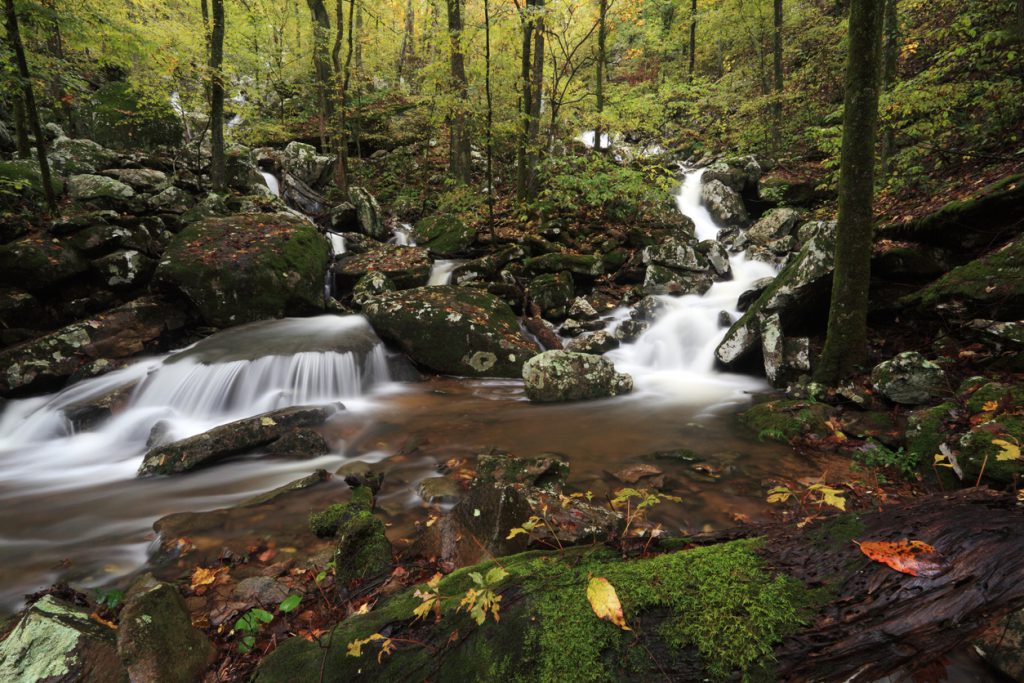 Arkansas' first state park is the perfect spot to add to your itinerary in The Natural State. The park draws its name from Petit Jean Mountain, where legend says an 18th-century French woman disguised herself as a boy called "Petit Jean" to secretly join her pioneering fiance on his explorations, but unfortunately became ill and passed away atop the mountain just after revealing her true identity to her fiance.
The grave of "Petit Jean" is marked on the mountaintop and is regularly decorated with flowers. Located about an hour northwest of Little Rock, the mountain and the park sit adjacent to the Arkansas River. For a challenging hike with a rewarding view, try the Cedar Falls Trail to the waterfall. Find caves and rock formations like Rock House Cave to explore within the park, or visit the man-made but still beautiful Mather Lodge. For a scenic route in the RV, head on Red Bluff Drive to the Richter Memorial Overlook.
Little Rock Central High School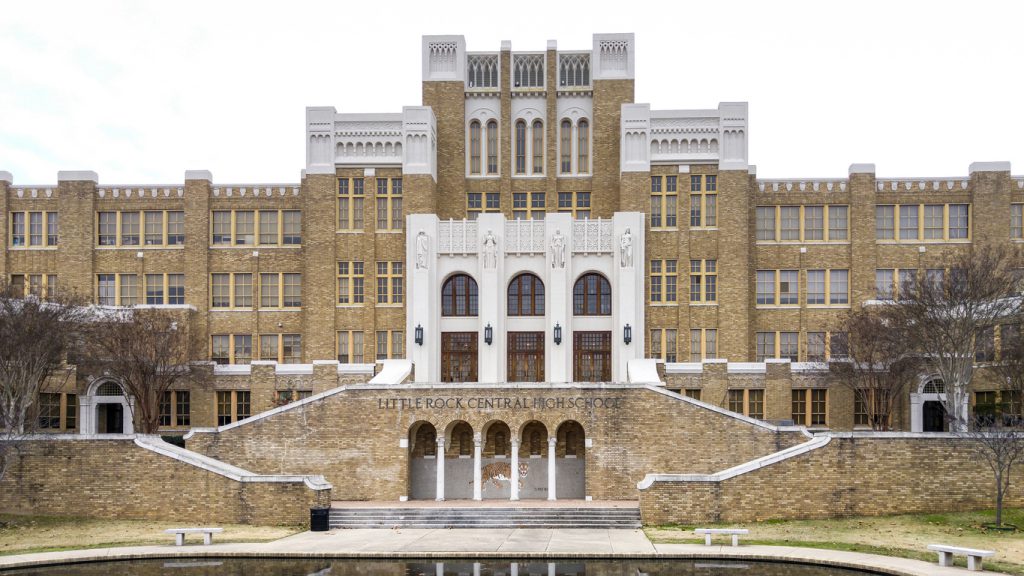 For an educational – and sobering – stop on your trip through Arkansas, plan to visit Little Rock Central High School. This national historic site and operating high school is where the "Little Rock Nine" battled hate and discrimination. As they integrated into an all-white school in 1957 following the Civil Rights Act, despite major opposition. The struggles these nine African American students went through are documented in the museum across the street through exhibits and photos. Their stories can be difficult to hear about, but they are important to know and learn about.
Best Places to Visit in Arkansas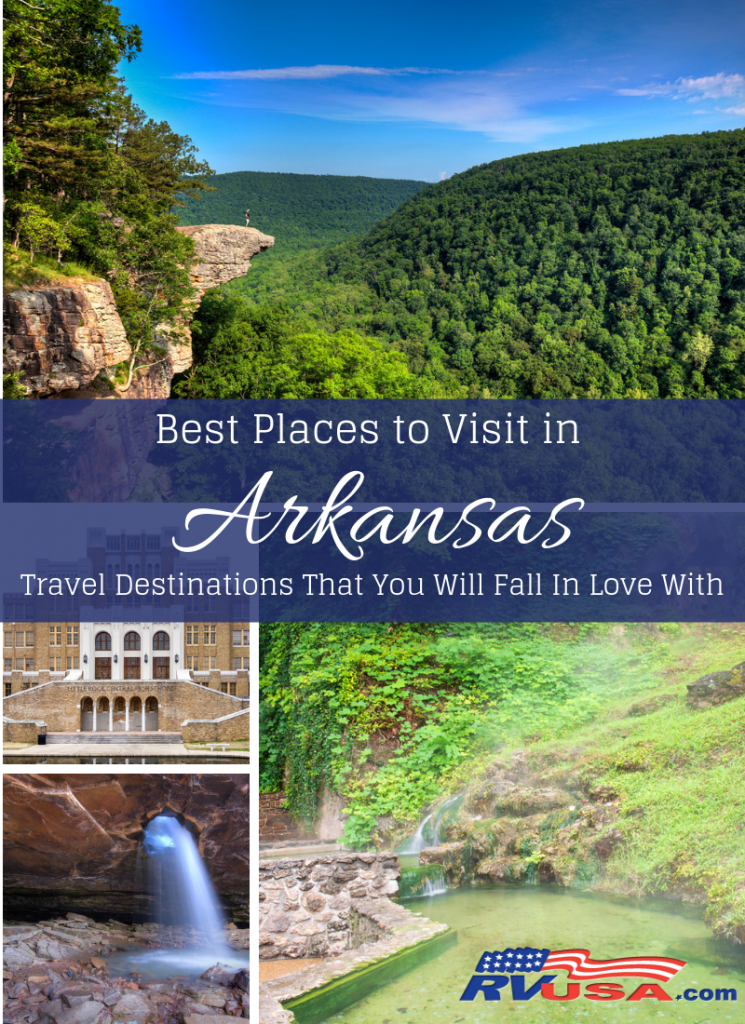 Whether you're up for learning important history, taking in nature or relaxing at the spa, you can find all of these things and more in Arkansas. Does this list have you bumping Arkansas up on your list of places you want to visit? Check out our other favorite RV destinations to get inspired!